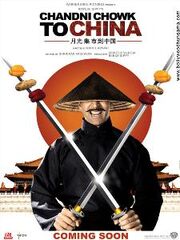 Chandni Chowk to China is a Hindi film which released on 16 January 2009.It is directed by Nikhil Advani and stars Akshay Kumar & Deepika Padukone in the lead roles with Hindi cinema veteran Mithun Chakraborty and Hong Kong action cinema veteran Gordon Liu among the co-stars.
Sidhu (Akshay Kumar) is a lowly vegetable cutter at a roadside food stall in the Chandni Chowk section of Delhi. He longs to escape his dreary existence and looks for shortcuts with astrologers, tarot card readers, and fake fakirs, refusing to believe in himself despite his foster father Dada's (Mithun Chakraborty) best efforts. When two strangers from China claim him as a reincarnation of a war hero in the past and take him to China, Sidhu, thanks to devious translations by his con-man buddy Chopstick (Ranvir Shorey), believes he will be taken to an exotic land and feted as a hero. In actuality, the Chinese men want him to rid their Chinese village of the vicious smuggler Hojo (Gordon Liu).
Sidhu blissfully sets forth to China with Chopstick. Along the way he meets Sakhi (Deepika Padukone), the Indian-Chinese spokesmodel known as Ms. Tele Shoppers Media, or Ms. TSM, who is travelling to the land of her birth and of her presumed-dead [who is still alive] father and her twin sister, Suzy. Suzy, also known as the femme fatale Meow Meow, works for Hojo, not knowing Hojo tried to kill her father. Sidhu, through a series of lucky coincidences, initially manages to sidestep being beaten by Hojo's men, but Hojo eventually catches up with him and exposes him as the buffoon he really is. Hojo kills Dada, and a disgraced Sidhu, left for dead himself, vows revenge. He encounters an amnesiac vagrant who turns out to be former Police Chief Chiang (Roger Yuan), the father of Sakhi and Suzy. Chiang recovers his memory, with his Kung Fu skills still intact. Sidhu wishes to learn cosmo Kung Fu. Chiang takes Sidhu on as his apprentice, and after months of training, Sidhu sets off to defeat Hojo, free the village, reunite the sisters, and win Sakhi's love.
Akshay Kumar ... Sidhu
Deepika Padukone ... Sakhi aka Ms.TSM/Suzy aka Meow Meow
Mithun Chakraborty ... Dada
Gordon Liu ... Hojo
Ranvir Shorey ... Chopstick
Roger Yuan ... Chiang Kohung