Veteran Bollywood actors Rishi Kapoor and Paresh Rawal are seen teaming up after a gap of nearly twenty years for Patel Ki Punjabi Shaadi, a feel good comedy about the clash of cultures and a blossoming love story. The actors last featured together in the 1993 hit movie Damini. In the movie, Paresh Rawal plays Hasmukh Patel, a devout Gujarati, whereas Rishi Kapoor plays a boisterous Punjabi by the name of Guggi Tandon, and both of them can't stand each other and things get crazy when their kids fall for one another.
The movie also stars popular stand-up comedian Vir Das as the Punjabi boy who falls for the Gujarati girl played by south Indian actress Payal Ghosh. Hasmukh Patel (Paresh Rawal) appears to be a strict father whereas Guggi Tandon (Rishi Kapoor) is a carefree father. The movie explores cross cultural relationships in India which, although common today, still has some taboo surrounding it.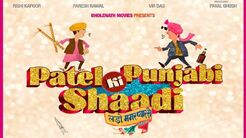 The teaser poster for the movie also appears to be quirky and shows Rishi Kapoor's character wearing a loud blue shirt and pinching the cheeks of a very anxious looking Paresh Rawal. The mood of the poster is quite jovial and hopefully the movie will also deliver the same.
The 2-and-a-half-minute trailer looks like a lot of fun and addresses cross cultural relationships with much humour and candour. It shows the struggles, friction and chaos that ensues between all the characters. The romantic comedy is all set to tickle your funny bones with its family drama, one-liners about Punjabis and Gujarati's and a very curiously worded Jai Mata Di song as well.
Patel Ki Punjabi Shaadi, is directed by Sanjay Chhel and produced by Kalapi Nagada and Bharat Patel. The film has been shot in Mumbai and Surat and there's also an interesting shoot location which is the Forbes Gujarati Sabha library in Mumbai that's nearly 200 years old. The rib-tickling bitter-sweet comedy is set to release on the 15th of September.
Summary: Patel Ki Punjabi Shaadi, is a rib tickling family entertainer about the larger than life Punjabi and Gujarati weddings and what happens when there is a clash due to a cross cultural marriage! The movie stars veteran actors Paresh Rawal and Rishi Kapoor and also actors Vir Das, Payal Ghosh, Prem Chopra, Jinal Benali, Divya Seth, Bharati Achrekar and Tiku Talsania in pivotal roles. The comedy hits theatres on the 15th of September.